William R. McGee chosen to speak on California's Lemon Law by attorney
Manny Medrano of television station KTLA 5 for a special news segment
focusing on consumers automobile warranty rights.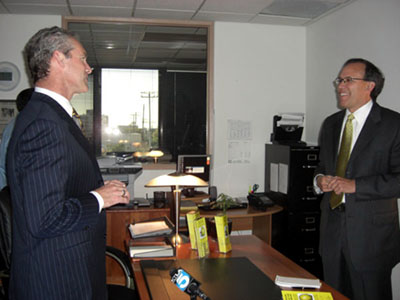 CLICK HERE FOR KTLA 5 LEMON LAW NEWS STORY VIDEO
February 2, 2010
In the wake of the recent massive Toyota recalls, Manny Medrano, consumer attorney for television station KTLA 5 in Los Angeles, interviewed plaintiff's attorney William R. McGee, who specializes in the California "lemon law". The interview was conducted at the law firms Glendale office. Mr. McGee has represented over 17,000 California consumers in "lemon law" cases, and has specialized in lemon law for over 34 years, with 4 statewide office locations.
The focus of the interview was not the Toyota recall, but rather to California consumer's rights and how the California's lemon law may apply to them. Mr. Medrano first interviewed a client of Mr. McGee who had recently concluded a lemon law case that yielded a buyback (repurchase) of the client's defective Chevrolet Cobalt by General Motors. Mr. Medrano then interviewed William R. McGee, fielding questions about California's lemon law, how it works, and what consumers should be aware of in utilizing this important consumer protection law.
The highlight of the interview was that consumers were introduced by Mr. McGee to the importance of properly documenting warranty repair visits by virtue of obtaining "repair orders" from the dealership when the vehicle is presented for repairs.
Also covered in the story was the point that if consumers have had repeated repairs for the same problem during warranty, and their vehicle has just recently left the factory warranty, that the consumer may still be a candidate for a lemon law claim if the problems still persist.